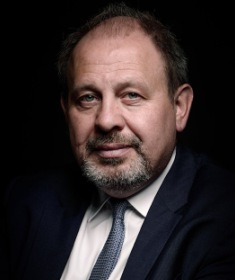 About Us
Hubert de Saint Jean developed his financial expertise during 25 years in France, in the Balkan Region and in Africa. Former High Executive of BNP Paribas and Societe Generale, he has worked in M&A for 7 years and he has managed two universal banks in emerging countries for 9 years. .
Track-record in Mergers & Acquisitions
From 2001 to 2009, Hubert de Saint Jean completed, Hubert de Saint Jean achieved numerous M&A missions. He studied more than one hundred potential targets, conducted over thirty due diligences in Africa and in Eastern Europe. With the support of his team, he closed ten transactions. :
In Africa: Creation of a Bank in Benin, acquisition of SSB Bank (Ghana) and of BII (Mauritania)
In Central and Eastern Europe : Acquisition of Banka Popullore (Albania), Podgoricka Banka (Montenegro), Ohridska Banka (Macedonia), Bank Republik (Georgia), Delta Credit (Russia), Splitska Banka (Croatia) and MobiasBanka (Moldova)
His activities led him to work in close partnership with the most prestigious Banks involved in M&A (Merril Lynch, Lazard Bank, JP Morgan, Deutsche Bank, Goldman Sachs, Rothschild & Cie), with the largest law firms (Gide Loyrette Nouel, Norton Rose Fulbright, White & Case LLP …) and with the Big Four accounting firms (Ernst & Young, PricewaterCoopers, Deloitte, KPMG).
Experience in the development of banks in emerging countries
From 2013 to 2017, Hubert de Saint Jean managed Société Générale de Banques de Côte d'Ivoire (SGBCI), Number 1 Bank in French-speaking sub-Saharan Africa. Once again, the Net Banking Income increased by 74 % during the period (from 93 m euro up to 161 m euro). The cost efficiency ratio went down from 58 % to 46 %. Concerning the bank net profit, it rose from 20 m euro in 2013 up to 61 m euro in 2017. The Net Banking Income per employee increased by 54 % in the period.
Key Figures Ivory Coast .
From 2009 to 2013, Hubert de Saint Jean managed Societe Generale Albania (40 branches, 390 employees). The Net Banking Income increased by 74 % during the period. The cost efficiency ratio (general expenses / net banking income) went down from 95 % to 61 %. The net result came from a loss of 2.4 m euro in 2009 up to a profit of 5 m euro in 2013. The Net Banking Income per employee increased by 69 % in the period.
Key Figures Albania